We Feel Fine: Feelings from around the World
Have you ever wondered how other people feel? Are people happy or sad in Baghdad, New York, or London right now? Does the rain affect how we feel? If Nobody Speaks has found the answer to all these questions and more with We Feel Fine – an exploration of global human emotions created by Jonathan Harris and Sep Kamvar.
Every few minutes We Feel Fine harvests our collective feelings through searching blogs for the phrases "I feel…" and "I am feeling…". By recording the full sentence, age, gender, location of the person and the local weather, We Feel Fine has built a collection of over twelve million feelings, growing by 20,000 feelings every day. Feelings can be searched by location, weather, age and gender to answer questions as diverse as: Do Europeans feel sad more often than Americans? What do people feel right now in London? Which are the happiest cities in the world?
Feelings are displayed through an interactive particle interface, with each rapidly moving particle representing a single feeling. The particles' colour, size and shape reflects the nature of the feeling inside – happy feelings are bright yellow, sad feelings are dark blue and angry feelings are red, with size showing the length of the feeling. Four years and twelve million feelings after launching the project, We Feel Fine produced a bespoke book revealing the feelings of a global community – read reviews by Flowing Data and OK Great or buy it here on Amazon .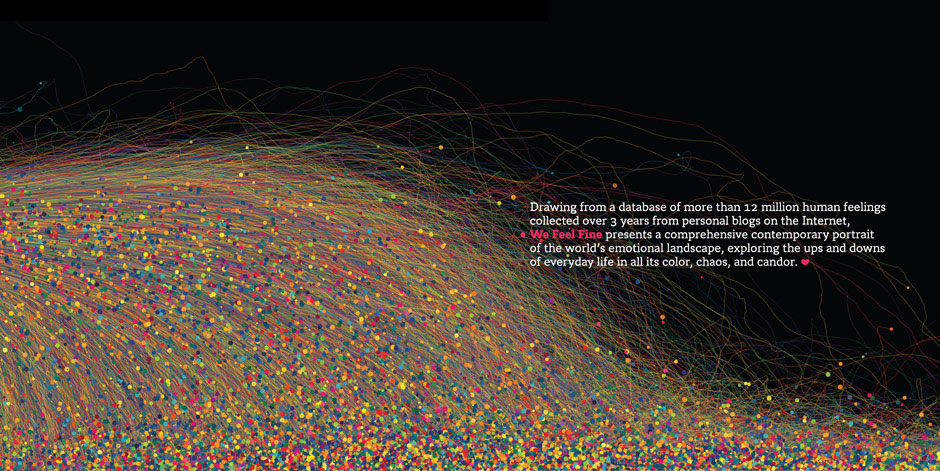 A similar project, twistori, shares the loves, hates, hopes, wishes and thoughts of the global tweeting community. It is mesmerising to watch the flow of emotions unfolding. Elsewhere on WordPress; Creative Spark, Creative Heart, Jazamatazz and Paper Cliff have all discovered the delights of We Feel Fine.
We Feel Fine is art created by everybody, for everybody. It will grow and change as we do, reflecting our lives, our hearts and our minds. If Nobody Speaks feels it makes the world seem a little smaller, more connected and beautiful, and that's got to be a good thing.